This post contains affiliate links.
Fall is here! And with it, here are my fall must-haves for 2019. These are some of the products I swear by and some of the things I love during the fall.
A candle that makes you feel cozy
I love candles, but I especially love candles in the fall and winter, because the ever-so-slight smell of a tiny fire is the epitome of coziness to me. Typically, I love fresh, clean, slightly floral scents – the kind that conjure bright late spring mornings in a dewy field of flowers, while laundry snaps in a breeze on the line above. Though lighting candles with such scents can be uplifting during the colder, darker months, I can branch out to darker scents as well.
This one, from Target, intrigues me: Fall Day, which is described as having "bergamot, apple, and pear" notes. The second, also from Target, is a tried-and-true favorite of mine: Cozy Flannel, which has "citrus, lavender, and violet" notes. With price tags like $4.99 for 4.1oz and $9.99 for 15.1oz, they're definitely affordable, and the scent lasts throughout the whole burn time (around 20 and 50 hours, respectively).
A signature fall scent
If you know me, you know that I love perfume. I've always been a little bit of a perfume hound, though I've gotten better as of late. My collection now only has three perfumes: one for spring and summer, one that is no longer made that I refuse to use except sparingly, and one for fall and winter. My fall and winter scent has been Coach by Coach for about two years now. I believe the scent is too heavy for the warmer months, but it's just right for the cooler ones. Its notes are, from top to bottom, raspberry leaves, Turkish roses, and suede musks (stay tuned till springtime for my spring/summer perfume.).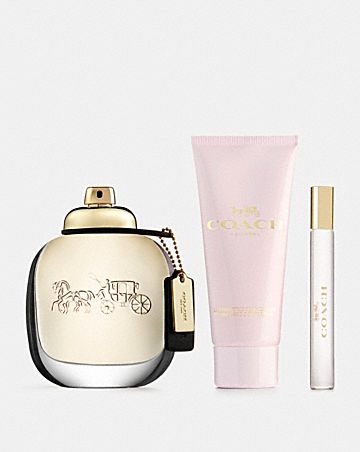 Hand Food
In the last few months, I have fallen in love with Hand Food by Soap & Glory. This moisturizer promises to moisturize without that greasy feeling, and it delivers on that promise. With shea butter and macadamia oil, it moisturizes my dry cuticles and knuckles, and there's no greasiness once it's on my hands. Plus, it smells amazing, but not overwhelming. With the drier weather, it's important to keep your hands moisturized, especially if you're trying to preserve your manicure. Make sure to massage it into your cuticles and nails to promote nail and cuticle health.
A TBR
One of my favorite things to do during the fall is read. There's something about the lessened warmth and light that encourages curling up with a book. It's great to cuddle up in a blanket and read while the wind howls or rain falls outside. It's even better to spread a blanket or sit on a bench outside and read in the still-warm sunshine, feeling the cool air blowing the pages and your hair. If you'd like to see my to-be-read (TBR) list, comment below!